U.S. TO SELL MORE TIPS
China has requested more security in the value of the U.S. bonds that they hold. To answer this need, the U.S. has agreed to sell more inflation protected treasury securities.  These bonds can protect investors because the bond's effective return to investors rises (albeit after the fact) if inflation rises.
The problem for China is if the U.S. dollar falls, and we believe that it will, the Chinese will still lose a lot of money in Chinese Yuan in terms on their purchase of any U.S. bonds, including TIPS.
Here is an article from last Thursday's Wall Street Journal.
U.S., in Nod to China, to Sell More TIPS
August 6, 2009
By: Rob Copeland and Maya Jackson Randall 
The Treasury Department, responding to growing demand from China and other investors, will boost the sale of inflation-protected bonds that hold their value as consumer prices rise.

"We continue to hear growing demand for the product," Treasury Deputy Assistant Secretary for Federal Financing Matt Rutherford said at a news conference announcing the plan on Wednesday.  The decision to increase sales of Treasury Inflation-Protected Securities, or TIPS, is part of a broader effort to ensure there is enough demand for Treasury bonds to help the U.S. finance its swelling budget deficit. The Treasury already has issued a record amount of debt in the past year, and the department said Wednesday it will sell a record $75 billion next week.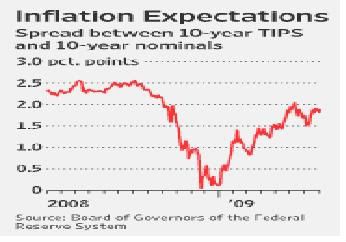 In particular, Treasury officials need to ensure demand from China, the largest holder of U.S. government debt. Last week's auctions of fixed-rate notes saw lukewarm demand from China and other investors. Chinese officials had indicated they want inflation-protected securities, especially as the U.S. economy starts to recover.
"Inflation is the No. 1 worry," said Marc Chandler, global head of currency strategy for Brown Brothers Harriman & Co. "This is the government saying, 'We will take that inflation risk away from you.'"
Even with an increase, TIPS would remain a fraction of the overall market for Treasurys. Of the $6.66 trillion of government bonds issued between Oct. 1, 2008 and June 30 of this year, just $44 billion were TIPS.
The Treasury could easily sell as much as $10 billion more, said Jeffrey Elswick, director of fixed income at Frost Investment Advisors LLC. But those extra sales mightn't be such great news for existing owners of inflation-protected notes. If the Treasury continues to ramp up TIPS sales, it will "cheapen" the bonds of existing investors, said Don Martin, a financial planner with Mayflower Capital in Los Altos, Calif.
The value of the securities fell after the announcement, sending the gap between TIPS and comparable nominal notes to a two-month high. The gap ended at 1.93 percentage points, signaling that investors expect annualized inflation of 1.93% over the next decade.
The Treasury also said it may issue 30-year TIPS in place of 20-year TIPS.

EUROPEAN MARKETS CONTINUE TO RALLY
We have not been bullish on Europe, thinking that Asia would do better. Asia has done better, and we are now revising our view in the case of Western Europe, especially Germany and Norway.  We see these countries as areas of opportunity as new liquidity flows into Europe, the U.S., and Asia at an astounding rate.  One very important statistic many brokerages are reporting is that their average retail client has over 20 percent of their assets in cash.  This is a very high historical percentage, and one not associated with market tops.
We agree with many economists that the world economy remains mired in a major recession, or depression, whichever you wish.  However, this is not stopping global investors from sending massive amounts of money that they had withdrawn from markets back into them as the battle for performance forces money managers to be invested.
We see Germany and Norway as being better positioned than other European economies and free of the difficulties that currently characterize Eastern Europe and the Baltic countries, and not in a very difficult situation like much of Eastern Europe and the Baltic countries.  The latter are countries we prefer to continue to avoid.
Germany's DAX Index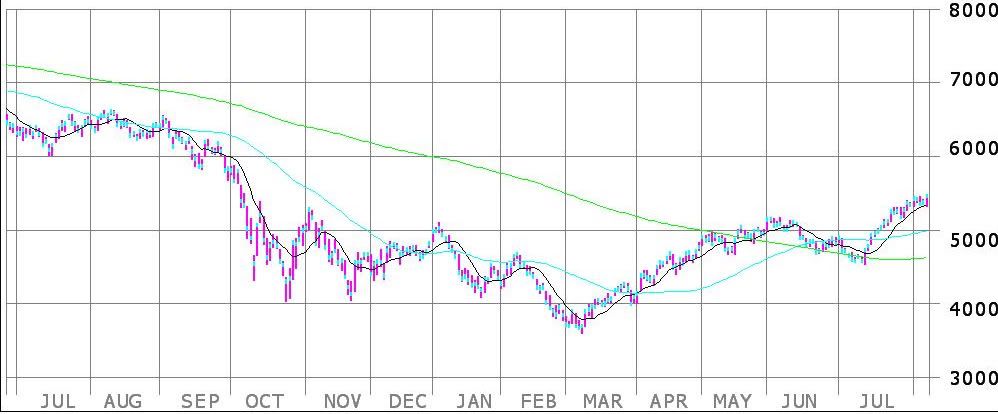 Norway's Oslo Exchange Benchmark Index


ASIA IS GETTING A SMALL CORRECTION
We will continue to use any correction in Asian markets as an opportunity to add to our positions in Singapore, China, and Hong Kong.  We will also buy India if the correction is big enough to account for the poor monsoon in the northern parts of the country. This will decrease GDP by about 1 percent  in the current fiscal year, although GDP growth will still be substantial in India.  We like India but do not believe that the market has yet adjusted to the fact that the monsoon is poor this year.
EMERGING ECONOMIES
The economic data form China is stunningly strong, and India has been doing much better than many expected.  Export oriented markets like Hong Kong and Singapore have had a decline in activity, but as business picks up in Asia they will continue to recover.  We think it is important to remember that much of the trade in Asia is between Asian countries, including Japan.  Secondarily, Asian trade is with Europe, and only thirdly with the U.S.  
The emerging economies of Asia also continue to perform well, as do the emerging economies of much of Latin America.  It is Eastern Europe and the Baltic countries where emerging economies continue to struggle.  A bright spot in Eastern Europe is Poland, which has demonstrated that it has a more vibrant economy than its neighbors.

U.S. MARKET CONTINUES TO BE STRONG 

We view the strength of the U.S. stock market as a reflection of people's hope rather than reality, but we are not averse to making money with trading positions in the U.S.  We are concerned about the possibility of mortgages continuing to go bad.  It is clear that the U.S. needs more stimuli; both general economic stimulus and industry-specific bailouts like the financial industry and the auto industry have received.
Of course more stimulus means bigger and bigger deficits.  This puts the value of the U.S. dollar very much in question.
BRAZIL
We are watching and waiting for a correction to get more excited about Brazil, although Brazil continues to get huge inflows of cash from investors worldwide.  We congratulate President Lula on the job he has done navigating his country these past few years.

OIL AND GOLD REMAIN HIGH ON OUR PRIORITY LIST
This year, oil has risen nicely in spite of fears that a global depression could squash demand.  We continue to see oil, gold, and copper as being in a different and stronger category than other commodities.  I write this email from Denver where I am attending an energy conference and will be meeting with the CEO's and CFO's of many energy companies.  We continue to expect oil to rise as the reality of impending shortages becomes recognized by the majority of investors.
We believe gold will rise as an alternative to the U.S. dollar, which we continue to see as a poor long-term investment.  The dollar can get a rally at anytime, but the long-term fundamentals of the greenback are quite poor.  There has been much talk about how are we going to be able to finance the budget deficits in the U.S.  I believe the deficits can be financed, but the dollar must fall for this to be accomplished.

SUMMARY

In summary, the world stock markets have risen from their bottoms.  Asia has led and the U.S., Europe, and Japan have followed.  Oil has outperformed most other commodities, and we continue to see oil and gold as offering opportunity.
In our opinion, Asian markets especially China, Singapore, and Hong Kong offer opportunity, as do Germany and Norway.

SUMMER READING

There are a couple of books on our summer reading list that we think you might like.
The first book is titled In Fed We Trust: Ben Bernanke's War on the Great Panic by David Wessel.
This book highlights how many of the regulators and officials were naïve and slow to understand the scope of the problems, and the financial system's near unraveling in 2008, especially in the hours surrounding the Lehman Brothers' failure in September 2008.  As the delicate and complex system where global institutions assumed the financial health of their counterparties was failing, Ben Bernanke and others were pressed to taking some previously unthinkable measures.
Regulators, like the SEC and the governmental officials charged with overseeing the banking system were slow to recognize the warning signs (of leverage and derivative abuse) that Jim Sinclair, we, and others kept writing about in the years leading up to the meltdown.
The second book is The Myth of the Rational Market: A History of Risk, Reward, and Delusion on Wall Street by Justin Fox.
This book takes a historical look at Efficient Market Theory, the theory that markets are rational and efficient.  The author points out how these intellectually compelling but practically flawed theories came into favor in academia and on Wall Street.  Investment portfolio construction based on mathematical modeling and the efficient market theory has not worked as planned.  In fact, a reliance on mathematical models and forecasts that ignore the unpredictability of human behavior and psychology was largely responsible for the financial system's meltdown last year.
We encourage you to contact us if we can answer any questions or be of service.  Thank you for listening.
---
These articles are for informational purposes only and are not intended to be a solicitation, offering or recommendation of any security.  Guild Investment Management does not represent that the securities, products, or services discussed in this web site are suitable or appropriate for all investors.   Any market analysis constitutes an opinion that may not be correct.  Readers must make their own independent investment decisions.
The information in this article is not intended for distribution to, or use by, any person or entity in any jurisdiction or country where such distribution or use would be contrary to law or regulation, or which would subject Guild Investment Management to any registration requirement within such jurisdiction or country.
Any opinions expressed herein, are subject to change without notice.  In addition, there are many market, currency, economic, political, business, technological and other risks that are beyond our control.  We make reasonable efforts to provide accurate content in these articles; however, some content and some of the assumptions, formulas, algorithms and other data that impact the content may be inaccurate, outdated, or otherwise inappropriate.  In addition, we may have conflicts of interest with respect to any investments mentioned.  Our principals and our clients may hold positions in investments mentioned on the site or we may take positions contrary to investments mentioned.
Guild's current and past market commentaries are protected by copyright.  Apart from any use permitted under the Copyright Act, you must not copy, frame, modify, transmit or distribute the market commentaries, without seeking the prior consent of Guild.