JAPAN
There has been much press coverage of the change in the last week about the change in Japanese leadership from the Liberal Democratic Party [LDP], which had ruled Japan since 1955, to the Democratic Party of Japan [DPJ].  The change was brought about by the Japanese voters' angst about living standards and their feeling of insecurity about the future.
Over the last few decades in Japan, the LDP ignored the problems within the Japanese banking system and the over-leverage in real estate (in the 1980's).  This culminated in a real estate and asset bubble in the 1980's.  After the bubble burst and the economy stopped growing, the LDP repeatedly bungled the recovery of the Japanese economy and never addressed the root causes of the crisis in the banking system.  Instead,the LDP's response was to use their political machine to promote government borrowing and spending on public works projects roads, bridges, post offices, and many wasteful programs to support the agriculture industry.  Of course, agricultural and construction industries were long time powerful supporters of the LDP. 
In our opinion, the primary mistake of the LDP was that THE BANKING SYSTEM WAS NOT PURGED OF BAD LOANS.
And much of the malaise in the Japanese economy can be traced to a banking system that never wrote off bad loans and recapitalized with new stock offerings.  Zombie banks were allowed to continue operating without admitting mistakes, and without pressuring companies to go bankrupt, thus the financial system was weak and ineffectual.  Even the accountants caved in to political pressure and allowed bad loans to stay on the books as possibly collectible. This of course was pure fantasy.  Because they were stuck with bad loans they did not write off, Japanese banks could not lend money for the creation of new companies or the expansion of old ones.  Without loans to provide capital for growth new jobs could not be created.
The economy stagnated and the stock market, after peaking in late 1989 at about 39,000, closed last month at about 10,500. After almost 20 years of stagnation, the public voted to throw the LDP out.
We hope that the DPJ can do something to better the situation in Japan, but it remains to be seen if they will be successful.
WILL THE U.S. AND EUROPE REPEAT THE MISTAKES OF JAPAN?

In banking and as in all businesses, it is better to admit mistakes and take the steps necessary to correct them.  We are concerned that accountants in the U.S. and Europe are succumbing to the same type of pressure as Japan's accountants, they are allowing bad loans to be classified as potentially collectible on the financial statements of their banks.  For this and other reasons, we have been predicting slow economic growth in Europe and the U.S. for the next five years. 
We are hopeful that The U.S. and Europe will allow the banks to write off bad paper and once again recapitalize to make new loans.  As of now we have not seen enough of this to make a large positive impact.
In addition, regulations should be implemented to encourage less speculation in derivatives and other exotic instruments by banks, and to encourage more basic banking. But banks and politicians on both continents seem to be focused on avoiding both the reform of exotic instruments and a return to basic lending.
In our opinion, quick action to strengthen the banking system is still needed otherwise both the U.S. and Europe will enter a much longer period of economic malaise than is necessary.
CHINA
Why has the Chinese stock market been such a good investment for the ten months and why do Chinese investors continue to push it higher?
Presumably, Chinese investors believe in the long term growth of the Chinese economy, and that Chinese companies can grow their earnings at a rapid rate for several years to come.  We concur.
There may be other reasons for their increasing stock market investments as well.  We know that many Chinese are now millionaires; China has more millionaires than the U.S.  We also know that many more become millionaires with each passing day.  Let us examine some of the investment alternatives for Chinese Investors.  Traditionally, the wealthy in mainland China have had few alternatives for investment.  If you are a wealthy Chinese looking to invest excess cash, your options are as follows:  1) a second or multiple homes which can be rented out.  2) Stocks.  3) Gold and silver in coins or bars.
China has started pushing gold and silver investments in four different sizes to investors which can be purchased at banks throughout China.  Why would China do this? They are doing it because they are trying to keep real estate prices from rising too much in China. Currently, real estate prices are rising because many wealthy Chinese are buying several extra homes and renting them to others.  Under Chinese regulations, real estate buyers have to put down over 55 percent for any home purchase after their first one, and then they have to pay a higher interest rate than for their first home.
To invest their wealth overseas, Chinese investors must have government permission to send money out of the country, thus is hard to get money out of the country for foreign investment.  In China, the bond market is very small and bond purchases are not an option.  It is almost impossible to invest in a private company because they are either state owned or owned by families who do not want outsiders in the family's company.  Therefore, gold an silver are an excellent alternative investment for the Chinese people and now, the government is pushing the two metals to investors through state owned financial institutions.
CHINA'S STOCK MARKET
The Chinese stock market recently had a very welcome correction.  During the recent price correction, the market pulled back about 45 percent of the upsurge from the November 2008 lows to the highs in early August 2009.  In our experience, corrections stay in the anticipated pattern by declining from 33 percent to 50 percent of the up move.  China's pull back did as expected.  The market corrected 45 percent of the up move, which was within the expected parameters.  Then, the market began to rise again.  In our opinion, it is a good time to buy Chinese stocks, and we have been doing so for our clients during the correction and in its immediate aftermath.
U.S. AND EUROPEAN STOCK MARKETS-WILL THE EXPECTED CORRECTION IN SEPTEMBER AND OCTOBER OCCUR?
If you read or watch any financial media, it is hard to avoid hearing the conventional wisdom that the U.S. and European markets will correct in the seasonal September – October time frame.  Over many decades, markets have demonstrated a pattern of correcting during the September – October time frame.  Will this year repeat the pattern?  Many stock market technicians are looking for a correction.  We are looking forward to the opportunity to buy stocks in attractive countries, and in attractive industries in the U.S. and Europe on that pullback.
Currently, we are limiting new investment to those markets that have had corrections, such as oil, gold, China, Taiwan and Hong Kong.  China, Hong Kong, and oil corrected recently, and gold has basically been correcting for over a year. 
We also remain bullish on India, Singapore, and Brazil and technology companies in U.S. and Europe, but we will wait for an opportunity to get better prices. Perhaps the expected correction will provide other opportunities for us.
Chinese Shanghai Composite Index
Light Crude Oil (NYMEX)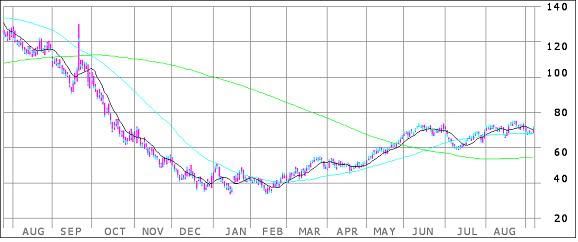 Gold (COMEX)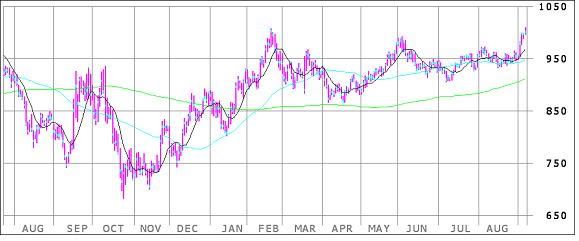 AS OUR LONGER TERM READERS KNOW…
We have been explaining for years that the world is in a slow and gradual process of establishing a new financial framework with a new global reserve currency.   The framework set up at Bretton Woods in 1944 and ratified by enough countries in 1945 brought the U.S. dollar to power as the world's lead reserve currency.  This arrangement has been fraying for decades and it continues to develop tears in its fabric.
The following quote from Cheng Siwei former vice-chairman of the Standing Committee of China as reported by Ambrose Evans Pritchard in the UK Telegraph gives us a clear vision of China's strategy.
"We hope there will be a change in monetary policy as soon as they have positive growth again" he said when referring to the U.S.  "If they keep printing money to buy bonds it will lead to inflation, and after a year or two the dollar will fall hard.  Most of our foreign reserves are in U.S. bonds and this is very difficult to change, so we will diversify incremental reserves into euros, yen, and other currencies."  Cheng went on to say" Gold is definitely an alternative, but when we buy, the price goes up.  We have to do it carefully so as not to stimulate the markets."
Thanks for listening.  Please do not hesitate to contact us with questions or comments.
---
These articles are for informational purposes only and are not intended to be a solicitation, offering or recommendation of any security.  Guild Investment Management does not represent that the securities, products, or services discussed in this web site are suitable or appropriate for all investors.   Any market analysis constitutes an opinion that may not be correct.  Readers must make their own independent investment decisions.
The information in this article is not intended for distribution to, or use by, any person or entity in any jurisdiction or country where such distribution or use would be contrary to law or regulation, or which would subject Guild Investment Management to any registration requirement within such jurisdiction or country.
Any opinions expressed herein, are subject to change without notice.  In addition, there are many market, currency, economic, political, business, technological and other risks that are beyond our control.  We make reasonable efforts to provide accurate content in these articles; however, some content and some of the assumptions, formulas, algorithms and other data that impact the content may be inaccurate, outdated, or otherwise inappropriate.  In addition, we may have conflicts of interest with respect to any investments mentioned.  Our principals and our clients may hold positions in investments mentioned on the site or we may take positions contrary to investments mentioned.
Guild's current and past market commentaries are protected by copyright.  Apart from any use permitted under the Copyright Act, you must not copy, frame, modify, transmit or distribute the market commentaries, without seeking the prior consent of Guild.