THE U.S. DOLLAR IS THE KEY TO THE PRICE OF GOLD, OIL, U.S. STOCKS AND FOREIGN STOCKS.
GOLD RECENTLY BROKE THROUGH 1,000 DOLLARS PER OUNCE.
There are two main fundamental reasons for the recent price rise:
1.  Gold hedges are being removed by many gold mining companies.
Our wise friend Jim Sinclair makes an interesting point this week when he comments that many gold mining companies have hedged their future gold production in the form of sales with recourse to the company balance sheet.  We all knew this and have warned our readers about it for years.  The new news is that Barrick Resources is closing out their millions of ounces of hedges this week with a write off of $5.4 billon of their losses on their short sales and the floating for about 3.5 billions dollars of stock.
Why did Barrick decide to do this now?  At present, inflation is not an issue.  Do they a) think gold is going up because the U.S. dollar will continue to fall?  Or, b) were they forced by their banks, who looked at the huge contingent losses building up on their balance sheet and wanted them to cut their losses?  Regardless of the reason, Barrick Gold's short covering is indisputably bullish for gold.
Gold (COMEX)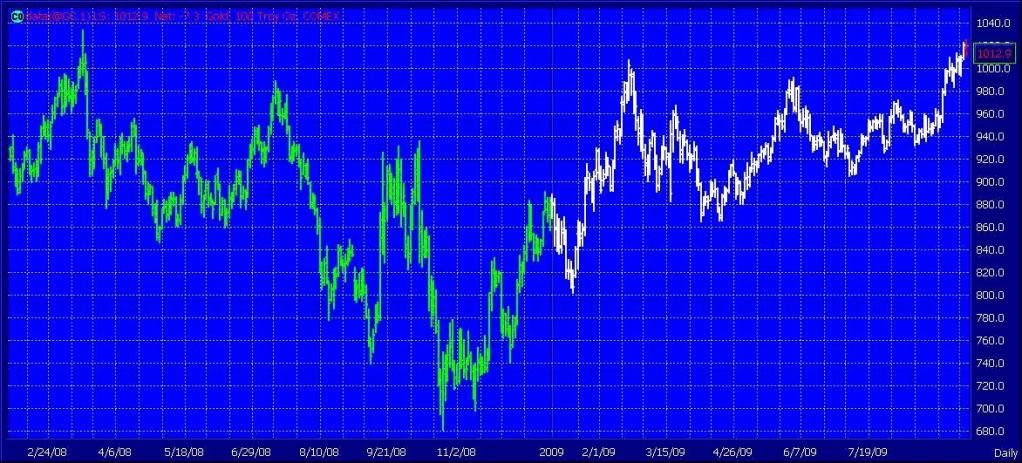 2.  Another bullish event for gold has occurred in the last few weeks.  The Chinese government has offered four denominations of gold and silver to Chinese banking customers.  This investment will be sold to wealthy Chinese through government owned banks.  Whenever the government offers an investment in China it is with an implied commitment to support that investment.  Therefore many expect the Chinese government to prioritize long term price stability or price increase for these investments.
The G20 meeting this weekend can have big consequences for the dollar and thus for investment markets throughout the remainder of 2009.  It may be that a weak dollar causes gold, the world stock market, oil and other commodities to rise as people run to purchase investments (any type of investments) that will hedge against a weak dollar.  Even U.S. stocks can rise since a weak dollar could cause exports to rise.  A U.S. dollar buttressed by policies to temporarily strengthen a fundamentally weak dollar could cause a sell off in the above groups.  The main thing we will see is continued liquidity pumping, which means future inflation and will therefore be good for gold and the above mentioned investments.
Why could it be good for some U.S. stocks?  Contrary to common belief, a decline in a country's currency can actually increase investment in those companies in your country which export to the rest of the world.  Within the U.S., some examples would be heavy equipment manufacturers, semiconductor stocks, and machine tools makers, all of which will benefit if the dollar falls as we anticipate.  The U.S. remains the world's largest manufacturing nation, larger than China or anyone else.  Many of these manufactured goods are sold outside of the U.S..  U.S. farm products, technology products, consumer products, commodities, and services are also sold abroad.  All of these companies will experience earnings increases as a benefit when the dollar falls.
However, we know that it is only those companies that are able to adapt to the changing trends that will stay for the long run because…
The industrial society and its administration via bureaucracy is slowly dying in the U.S., Europe and Japan. These societies are too advanced technologically and labor costs are too high for manufacturing success.
KNOWLEDGE-BASED, TECHNOLOGICALLY-DRIVEN INDUSTRIES ARE REPLACING THE MANUFACTURING-BASED INDUSTRIAL AGE OF THE PAST.
Have you noticed that over the last two decades most of the new jobs created in the developed world are positions in small entrepreneurships (often in the service sector) with less than ten employees, or highly successful technology companies with flat organizational structures?  Meanwhile, most of the shrinking companies which are laying off employees and even going bankrupt are modeled on the old hierarchically and bureaucratically structured manufacturing industries.
Bureaucracy and hierarchy were wonderful administrative structures for a manufacturing based economy and for command and control based activities like large scale manufacturing, large military, mass education, and the big government of the 1940's, 50's, 60's, and even the 70's.  However, since the 1980's, the efficacy of the command and control oriented hierarchical bureaucracy has been poor.  Since that time, large manufacturing companies have been downsizing and failing with great frequency.
On the other hand, many of the more flexible, quick moving, and technologically advanced organizations have prospered.  One reason for this may be that Technology based companies have flat organizational structures rather than hierarchical bureaucracies.  In addition they often have merit-based promotion and compensation schemes, rather than seniority based promotion schemes.
What does all this mean for us as investors?  It means that when investing in the developed world, we must find and invest in companies that are technologically advanced and well managed.
In today's information society, the most valuable characteristics to have are knowledge and that ability to communicate it effectively.  In this information era products and services to expedite communication are richly rewarded.  That's why some of the most successful companies are those that have discovered how to create products and services to help people communicate and share knowledge.
WE BELIEVE THAT THE RALLY IN LONG TERM U.S. BONDS IS CLOSE TO OVER.
The huge financing needs of the U.S. government are causing the U.S. itself to have to buy a large part of their own issuance of bonds.  This money creation is becoming more obvious to global investors, and we believe that they will begin to demand higher interests rates to purchase U.S. bonds.  We are issuing a warning to all readers of our commentary who own bonds with maturities of longer than 5 years to be very careful.  We believe that interest rates on 10 to 30 year U.S. bonds will rise and the value of the bonds will fall.
GOOD NEWS PAUL VOLCKER STANDS UP TO CONGRESS & OTHERS IN THE OBAMA ADMINISTRATION
Mr. Volcker is a Democrat and the former chairman of the Federal Reserve.  Those who lived through the 1980's remember how he brought inflation down and saved the economy from the high inflation of the 70's.  He stared down the powerful congressional interests and mortgage loan lobby.  Until now Mr. Volcker has been silent.  Now he comes out swinging against the rampart hedge funds like activities of major banks.  Instead of lending to the public the banks are speculating with their capital to increase the bonuses of highly paid traders, bankers, and investment bankers.  If they win, their bonus will be big.  If they lose, the tax payer bails them out.
Volcker proposals according to the Wall Street Journal are:
Former Federal Reserve Chairman Paul Volcker on Wednesday said banks should operate in a much less risky fashion, including not making trading bets with their own capital, comments that could provoke intensified debates over the future of financial regulation.
Mr. Volcker, who currently in chairman of the White House's Economic Recovery Advisory Board, suggested banks should be restricted to trading on their client's behalf instead of making bets with their own money through internal units that often act like hedge funds.
"Extensive participation in the impersonal, transaction-oriented capital market does not seem to me an intrinsic part of commercial banking, "he said in a speech to the Association for Corporate Growth in Los Angeles.
Mr. Volcker's comments could put him at odds with the Obama administration's proposal for new financial rules.  The White House has called for more oversight of banks' operations but doesn't push such strict limits on what they do.
We believe that The effects of the Volcker's proposals would be beneficial to the Main Street and would reign in Wall Street.  This will be hard, because a huge percentage of the money received by congress members to fund their re-election comes from Wall Street.  (The average congressman needs to raise $13,000 /  day to be re-elected each 2 years)
Some benefits that we believe Mr. Volcker's plan would:
1.  Promote financial transparency.
2.  Lessen risk of taxpayers being required to further bail out Wall Street.
3.  Stop issuance of OTC derivatives by banks.  These were a major cause of the current problems in the U.S. & Europe.
4.  Allow for more bank loans to Main Street.
SUMMARY
In summary, we believe that the U.S. dollar will fall much more in the coming months.  We therefore continue to be bullish on gold, oil, Asian stock markets like China, India, Taiwan, Hong Kong, and selected U.S. stocks.  A further impetus for our bullish view on Asian stocks is the fact that Asian economic growth is strong and much faster than economic growth in other parts of the world.  We will be buying the dips.
Thanks for listening.  Please do not hesitate to contact us with questions or comments.
---
These articles are for informational purposes only and are not intended to be a solicitation, offering or recommendation of any security.  Guild Investment Management does not represent that the securities, products, or services discussed in this web site are suitable or appropriate for all investors.   Any market analysis constitutes an opinion that may not be correct.  Readers must make their own independent investment decisions.
The information in this article is not intended for distribution to, or use by, any person or entity in any jurisdiction or country where such distribution or use would be contrary to law or regulation, or which would subject Guild Investment Management to any registration requirement within such jurisdiction or country.
Any opinions expressed herein, are subject to change without notice.  In addition, there are many market, currency, economic, political, business, technological and other risks that are beyond our control.  We make reasonable efforts to provide accurate content in these articles; however, some content and some of the assumptions, formulas, algorithms and other data that impact the content may be inaccurate, outdated, or otherwise inappropriate.  In addition, we may have conflicts of interest with respect to any investments mentioned.  Our principals and our clients may hold positions in investments mentioned on the site or we may take positions contrary to investments mentioned.
Guild's current and past market commentaries are protected by copyright.  Apart from any use permitted under the Copyright Act, you must not copy, frame, modify, transmit or distribute the market commentaries, without seeking the prior consent of Guild.