WILL INFLATION RETURN?
In the last twelve months, wheat, corn, soybeans, and the prices of many soft commodities and foodstuffs have fallen at the wholesale level.  This has been due to a cool and rainy summer in the Midwestern U.S. and in Europe, and a strong soy crop in Brazil.  The old saying held true in 2009; "rain makes grain".  The exception has been sugar which has risen in price due to crop issues Brazil and India.
We continue to believe that food prices and most commodity prices will rise versus the dollar but the rises will be modest.
In addition to the grains, some industrial metals have struggled to rise.  Industrial commodities are less attractive than oil and gold.  We expect global demand for industrial metals in Europe, Japan, and U.S. to remain weak while demand will be stronger than expected in China, Brazil, India and other emerging nations.
The ample excess capacity in the developed world's economies has convinced some people that inflation can not return for some time.  A few years ago we would have expected inflation to be rising by this point in time.  We were wrong.  Inflation does not appear to be a problem in the developed world for the immediate future.  At some point, inflation will resurge, yet a falling dollar will keep selected investments rising long before inflation appears.
If inflation is not returning in the next year, why have many non-food commodities been rising lately?  Most notably are oil and precious metals.  In addition, while gold, oil, and foreign currencies are rising, so too are the U.S. and world stock markets.
While there may not be inflation right now, investors are beginning to prepare for it.
Driving the rise in these markets and commodities is the falling value of the U.S. dollar.  It is important to remember that when professional investors want to invest to hedge against a declining dollar, they will buy the oil and gold, and…foreign currencies.
CURRENCIES
The global currency markets are huge, trading hundreds of billions of dollars a day.  We prefer to buy the currencies of smaller countries such as Norway, Switzerland, Canada, Australia, Brazil, and a few others.  Why have we chosen to invest in the currencies of the smaller countries?  Smaller countries lack the capital to fight a rise in the value of their currency.
All governments will want to defend their respective currencies if they move too far.  After all, governments are pressured by their home exporters to keep their currency down and stimulate exports.  While bigger countries have more capital to defend their currencies and try to keep them from rising, it is harder to do if you are smaller and the capital at hand to sell your currency and buy dollars is limited.
Conversely, the currencies from larger economies like Japan or Europe have much more money to buy dollars and sell their own currency thus keeping their currency lower and stimulating exports.
HOW TO HEDGE AGAINST A FALLING DOLLAR

1.  Own select commodities.
2.  Own select foreign currencies.
3.  Own U.S. stocks which are beneficiaries of inflation
a)  exporters who benefit when the cost of exports fall as the dollar declines.
b)  stocks which are connected with the strong commodities oil stocks and gold stocks.
c) stocks which are generally benefiting from low interest rates (U.S. rates are being held artificially low, and will be for some time).
4.  Own foreign stocks denominated in strong currencies of companies which can grow.
FINANCING THE DEFICIT
The U.S. Federal Reserve has purchased $2.2 trillion of U.S. paper, bank bonds, corporate bonds, U.S. agency bonds, and U.S treasury debt.  They will have to buy much more to finance the U.S. budget deficits of the next few years.  The purchases thus far have been both to finance the deficits and to bail out the banking system.
China, seeing the error of this strategy has been open about looking for ways to reduce their reliance on the dollar, and they have been steadily moving along to curtail the use of dangerous derivatives in China.  We will discuss this in more detail next week.
THE EXPANDING U.S. DEBT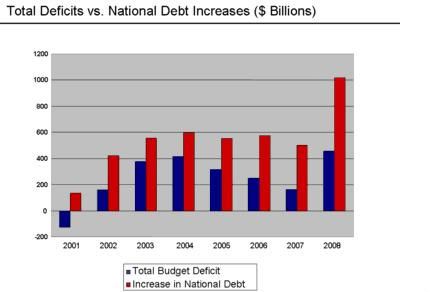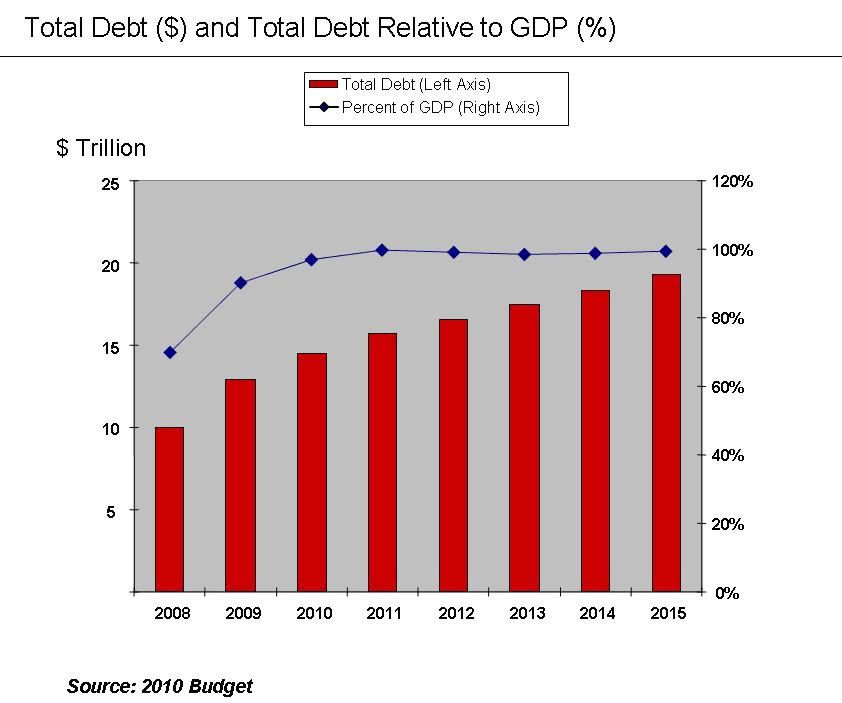 IT IS APPARENT THAT U.S. CONGRESSPEOPLE OF BOTH MAJOR PARTIES ARE DOING NOTHING ABOUT THE U.S. DEFICITS
The Greek playwright Euripides wrote; "Those whom the gods would destroy, they first make mad."  Clearly, the Congress of the United States is ignoring the budget, current account, and balance of payments deficits that are currently exploding on their watch.  The argument of many we have talked to who are connected with Congress sound something like 'during the Reagan Administration we ran deficits, and soon after during the Clinton Administration we had surpluses to counterbalance them.'  Their logic being that some similar gift in the form of budget surpluses will magically appear in the near future.
May we respectfully point out that the actions being taken today are in many ways the antithesis of the actions taken during the Reagan Administration.  Today, the U.S. is running trade, current account, and off the charts record budget deficits while the current administration is proposing raising taxes.
The Reagan administration, with congress' agreement ran deficits, in part because they cut taxes, especially capital gains taxes.  The tax cuts created incentives to invest and to create new capital.  As a result of this decision, venture capital flowed into the high technology companies, and many new industries were fostered, such as semiconductor, communications, biotech, software, the internet, and many other high tech areas were stimulated.  This growth produced many millionaires and created huge tax receipts for the government in the 1990's and early 2000's.
The current situation is just the opposite.  Congress is discussing raising taxes while financing two wars and spending huge sums on social programs.  There is less incentive for the entrepreneurial to take risk, build companies, and form capital.  Venture capital is not pouring into new technology or any other type of new ventures.  In fact, businesses today are having a hard time getting bank financing.
INVESTING IN NEW BUISNESS IS AN ECONOMIC NECESSITY
Simply put, no nation will generate big tax revenues from new businesses if they do not invest in them.
When this is pointed out to politicians of both parties, they revert to the old hope that something good will happen…but they are unable to suggest what that something good might be.
IF YOU BUY FINANCIAL STOCKS IN THE DEVELOPED WORLD…REMEMBER THEY ARE TRADES, NOT INVESTMENTS
The fact is that many banks are for all intents bankrupt.  Accounting tricks have been allowed by the FASB, the group that governs what CPA's allow in financial statements. They have agreed to be very lenient about the classification of certain risk assets and to value them in a manner that is more positive than the underlying market reality.  In other words, many of the assets could not be sold for close to the prices shown on financial statements.  Governments around the world, including in those in the U.S., Europe, and Japan have purchased the assets of severely compromised financial institutions to keep them from declaring bankruptcy. The hope is that the wide differential between the cost of deposits and the returns of loans will allow the banks to make enough money to recoup their capital and to float more shares in the public markets.  This story is a long way from being over so, be sure to remember that financial stocks in the developed economies are trades, not investments.  This is not the case for most of the banks in Canada, Brazil, Australia, and many developing countries in Asia which have been more conservative about purchasing exotic debt instruments which became toxic.
SUMMARY
We continue to expect a weak U.S. dollar, strong gold and oil prices, and plenty of profit opportunity in selected non U.S. stock markets.  In our opinion, investors should look for companies that export to faster growing parts of the world when investing in the U.S., Europe, and Japan.  In the emerging world, we prefer financial and consumer stocks that can grow.  You might consult our archives atwww.guildinvestment.com for stock markets and industries we favor.
If you have questions feel free to contact our office.  Thanks for listening.
---
These articles are for informational purposes only and are not intended to be a solicitation, offering or recommendation of any security.  Guild Investment Management does not represent that the securities, products, or services discussed in this web site are suitable or appropriate for all investors.   Any market analysis constitutes an opinion that may not be correct.  Readers must make their own independent investment decisions.
The information in this article is not intended for distribution to, or use by, any person or entity in any jurisdiction or country where such distribution or use would be contrary to law or regulation, or which would subject Guild Investment Management to any registration requirement within such jurisdiction or country.
Any opinions expressed herein, are subject to change without notice.  In addition, there are many market, currency, economic, political, business, technological and other risks that are beyond our control.  We make reasonable efforts to provide accurate content in these articles; however, some content and some of the assumptions, formulas, algorithms and other data that impact the content may be inaccurate, outdated, or otherwise inappropriate.  In addition, we may have conflicts of interest with respect to any investments mentioned.  Our principals and our clients may hold positions in investments mentioned on the site or we may take positions contrary to investments mentioned.
Guild's current and past market commentaries are protected by copyright.  Apart from any use permitted under the Copyright Act, you must not copy, frame, modify, transmit or distribute the market commentaries, without seeking the prior consent of Guild.