CLOUD COMPUTING
A new era in computing and delivery of information has begun.  If you aren't yet familiar with cloud computing, you probably will be soon.  We expect there to be an onslaught of news articles, editorials, and advertisements about cloud computing accompanying Microsoft's launch of their new computer operating system, Windows 7.
The term cloud refers to the internet (most computer network diagrams use a cloud shape to depict the internet).  Cloud computing allows companies and consumers access to virtually limitless processing power and storage.  In this new era, the personal computer (PC) will no longer be doing as much of the computing.  Rather, a vast network of data centers replete with huge storage systems and servers will operate complex programs, store information, and deliver web based services to computer and mobile device users worldwide.
Already, online games, web based email, and social networking sites operate from the cloud, and many new services will join them.  Smart phones, tablets, game platforms, net books, and other devices will get new operating systems and programs optimized to run from the cloud.  The cloud will change the way the technology business operates and how technology companies will compete with one another.
Longer term, this is not good for Microsoft's old business model.  The PC has been their power base and there will be a very vibrant competition between Apple, Google, and Microsoft for dominance in the data center business and associated suites of services and applications.
INTEL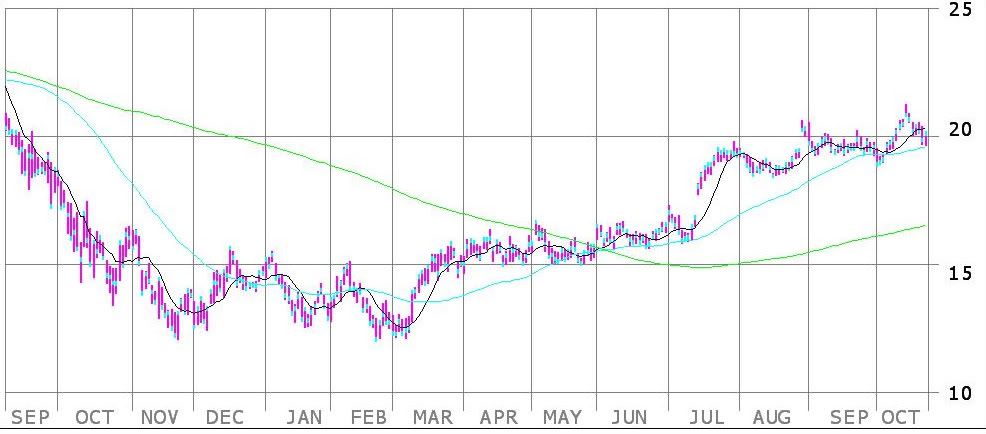 MOBILE TELEPHONY AND INTERNET
Clearly, one of the great trends of 2009 and the coming few years is mobile internet access.  With cloud computing so much in the news, and with the knowledge that the internet is the basis of cloud computing as opposed to the desktop, we are looking at companies that access the internet through mobile means via 3G (third generation) smart phones.  These include (as we have mentioned in previous memos) service providers, device makers, component makers, and software developers.  Our favorite ways to play the trend are through device makers and their suppliers.
This week, we had a number of conference calls from semiconductor companies who supply the necessary internal components for mobile devices and for cloud computing.  We also heard a stunningly bullish conference call from Apple Inc. which laid out how rapidly mobile 3G telephony is expanding in many countries.  Apple of course does many other things besides smart phones, and currently several of their consumer advice and retail businesses segments are also doing very well.
APPLE, INC.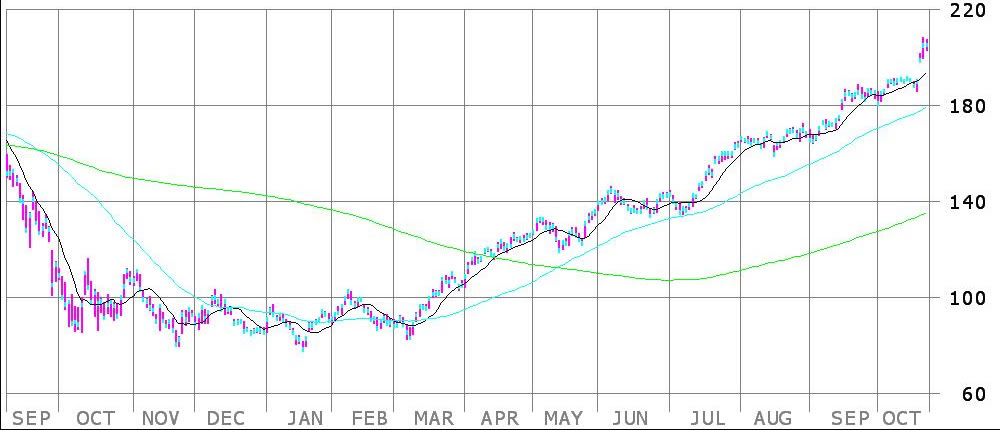 THE ECONOMIC GROWTH MODEL FOR JAPAN, EUROPE, AND THE U.S. IS POOR WHEN COMPARED WITH THE FAST GROWING COUNTRIES IN ASIA, AND WITH BRAZIL
CHINA, INDIA, AND BRAZIL
We can see China, India, and other countries growing, and the economic data is very supportive of this view.
We do not believe the same about the developed world.  Rather than inundate readers with every new data point about China's growth, suffice it to say that their growth is fast and accelerating.  China just announced their third quarter GDP growth at 8.9 percent.  China's foreign exchange reserves grew by $318 billion in the last six months.  Contrary to misinformed and naive reports, this came in spite of a big slowdown in Chinese exports.  The increase was due to the growth in foreign direct investment; foreign companies building plants, distribution facilities, retail outlets, and other enterprises in China.  The bears and naysayers on China's economy are looking more incorrect with each passing day.
China's economy has been moving from an export model five years ago to a hybrid model based on infrastructure, the consumer, and exports.  They have strengthened their relationships with markets within Asia and Europe, and are no longer as dependent upon the U.S. for exports as they once were.  The Chinese politburo is made of clearer thinking, and long-term goal driven engineers, and is very rational in its top down management and goal setting for the economy.  The banking system, although not perfect, is stronger than the U.S., European, and Japanese banking systems.  Capital is being allocated more wisely in China, and the country has huge trade balance of payments and current account surpluses.
India is also doing very well.  The national need for infrastructure is finally being addressed, and Indian entrepreneurs are running a strong economy.  India is still hampered by a socialistic bureaucracy that has always found a way to slow progress, as bureaucrats have used delay tactics and interference to make themselves more important and more wealthy.  Nonetheless, the country is showing strong growth and the middle class continues to expand rapidly.
Brazil is another success story.  Their banking system is operating very efficiently and the consumer is responding with increased demand for auto and home loans.  Much of this is due to the fact that Brazilian rates are now low enough for consumers to be able to borrow to buy a car or house.  Previously, periods of strong inflation and high interest rates had priced consumers out of the market for credit.  Today's more reasonable rates and lower inflation have set the stage for a period of consumer demand and growth of the Brazilian middle class.
These three countries and many others in Asia are growing their middle classes rapidly.  The opposite is true in the U.S., Europe and Japan as many are falling from middle class security in these more mature economies.  All of this is the manifestation of today's major world economic trend the decline of countries with overleveraged, weak banking systems and consumer focused countries of the developed world; and the rise of the emerging powers with stronger banking system, underleveraged economies, and industrial oriented leadership.
SUMMARY
Within the developed countries we are sticking to export oriented companies especially in high technology areas.  We remain bullish on most of the emerging nations of Asia.  Longer term, we like India and Brazil, but their markets have run ahead of their peers and may be vulnerable to a short term decline, we are monitoring them and looking for buying opportunities.  We continue to believe that oil, gold, and non U.S. currencies will appreciate.
Thanks for listening.  Please contact us if you have any questions or suggestions.
---
These articles are for informational purposes only and are not intended to be a solicitation, offering or recommendation of any security.  Guild Investment Management does not represent that the securities, products, or services discussed in this web site are suitable or appropriate for all investors.   Any market analysis constitutes an opinion that may not be correct.  Readers must make their own independent investment decisions.
The information in this article is not intended for distribution to, or use by, any person or entity in any jurisdiction or country where such distribution or use would be contrary to law or regulation, or which would subject Guild Investment Management to any registration requirement within such jurisdiction or country.
Any opinions expressed herein, are subject to change without notice.  In addition, there are many market, currency, economic, political, business, technological and other risks that are beyond our control.  We make reasonable efforts to provide accurate content in these articles; however, some content and some of the assumptions, formulas, algorithms and other data that impact the content may be inaccurate, outdated, or otherwise inappropriate.  In addition, we may have conflicts of interest with respect to any investments mentioned.  Our principals and our clients may hold positions in investments mentioned on the site or we may take positions contrary to investments mentioned.
Guild's current and past market commentaries are protected by copyright.  Apart from any use permitted under the Copyright Act, you must not copy, frame, modify, transmit or distribute the market commentaries, without seeking the prior consent of Guild.