IS CONGRESS REALLY CAPABLE OF MANAGING THE AFFAIRS AND LEGISLATION OF OUR FAST-PACED, HIGH-TECH, COMMUNICATION BASED SOCIETY?
The U.S. Congress is a slow moving, deliberative body. It is beholden to special interests groups, and is one of the root causes of many of the great defects in the current U.S. financial crisis.
Their track record is appalling. As our society progresses and the pace of life increases, Congress continues to fall further behind. By the time they get around to examining a problem, it has already run its course, and the changes they make after the fact often exacerbate the problems they set out to solve. Often, they are unable to make the changes necessary because they are owned by special interests and most of their constituents are focused on one or two personal issues-not on the best interest of the country as a whole.
Most congressional members are in the business of manipulating facts to suit their re-election. Moral hazard is big in finance, but huge in Congress. Now, more than ever, Congress has proven itself to be part of the problem, not part of the solution.
GOLD
Gold is getting into our buying range. Central banks in the emerging world will allocate more to buying gold at $1050 $1030, $950 and $900 per ounce.
FOOD PRICES IN CHINA AND INDIA
This week, there is a growing fear of higher interest rates in China due to high food inflation in India. India is currently experiencing food inflation at ruinous levels due to a bad monsoon, inefficient infrastructure to deliver crops to market, corrupt bureaucrats, hoarding, and increasing demand for more meat in Indian diets. As our readers know, meat is very grain intensive. Depending on the type of meat, it takes three to eight pounds of grain to produce one pound of meat.
China cannot allow its people to experience food inflation, there are too many citizens (about 900 million) living near the poverty line. The Politburo knows that if food prices rise dramatically political instability could result.
If food inflation begins to be felt, we believe China will take the following actions:
1. Price controls: These will be a bit effective at first, but then they will create shortages.
2. Allocation of more resources to fertilizers and other crop expansion programs.
3. Substantial interest rate increases meant to substantially to decrease demand for goods and services. This will be the last step.
This third alternative will be damaging to the prices of commodity-related stocks in China and other parts of the world. As we mentioned last week, 'when China sneezes the world catches a cold'.
We believe China will escape high food price inflation, but we are carefully watching the data for indications that the Chinese will need to raise interest rates. Should China raise rates substantially, world markets would suffer…at least temporarily.
MANY REPORTS FROM CHINA CONFIRM THAT THEY ARE STORING LARGE AMOUNTS OF BASE METALS
As expected, China will need to import oil, coal, and iron ore but they are fully stocked on most other base metals for the next six months. As we see it, this will cause downward price pressure on copper and other base metals in the short run.
SUMMARY
Although the world is coming out of a serious economic recession/depression, world markets are experiencing a correction following their 2009 rally. The current fear surrounding the debt of Portugal, Ireland, Greece, and Spain will keep the market on tenterhooks for a few weeks or months. Concurrently, the fear of much higher interest rates in China is weighing on markets.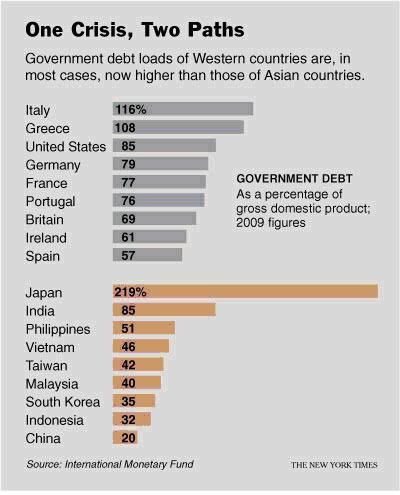 We believe that stocks will be a good buy after the current market correction runs its course. Temporarily, we are avoiding most foreign currencies. The rally in the U.S. dollar that we called in December 2009 is still in effect. We are long U.S. dollars, waiting to buy stocks on a correction that will continue for another few weeks or possibly a few months.
We are buyers of gold and oil on dips caused by a strong dollar. We are waiting to purchase gold when it gets to $1050, $1030, $950, and $900 per ounce; and investments in oil at about $68 and $60 per barrel should these commodities reach those levels.
World stocks will hang on events transpiring in China. If Chinese inflation remains tame, world stocks will soon be on the rise. However, if China's inflation increases dramatically, and they are forced to raise interest rates, stocks will stagnate.
When the rally resumes, we expect China, India, Brazil, Indonesia, Turkey, Thailand and other fast growing countries to attract a great deal of money. We also see certain stocks in the U.S., Europe, Australia and other developed nations doing well.
Thanks for listening.
---
These articles are for informational purposes only and are not intended to be a solicitation, offering or recommendation of any security.  Guild Investment Management does not represent that the securities, products, or services discussed in this web site are suitable or appropriate for all investors.   Any market analysis constitutes an opinion that may not be correct.  Readers must make their own independent investment decisions.
The information in this article is not intended for distribution to, or use by, any person or entity in any jurisdiction or country where such distribution or use would be contrary to law or regulation, or which would subject Guild Investment Management to any registration requirement within such jurisdiction or country.
Any opinions expressed herein, are subject to change without notice.  In addition, there are many market, currency, economic, political, business, technological and other risks that are beyond our control.  We make reasonable efforts to provide accurate content in these articles; however, some content and some of the assumptions, formulas, algorithms and other data that impact the content may be inaccurate, outdated, or otherwise inappropriate.  In addition, we may have conflicts of interest with respect to any investments mentioned.  Our principals and our clients may hold positions in investments mentioned on the site or we may take positions contrary to investments mentioned.
Guild's current and past market commentaries are protected by copyright.  Apart from any use permitted under the Copyright Act, you must not copy, frame, modify, transmit or distribute the market commentaries, without seeking the prior consent of Guild.