THE U.S. BOND MARKET IS LOSING STEAM
U.S. bonds fell last week as the weekly bond offerings to finance the deficit met with weak demand.
It seems that Japan and China have been absent or muted in their recent demand for U.S. bonds.
This could be a substantial problem since they are the two largest holders of U.S. debt. Some argue that Japan's absence from the market is temporary, attributable to the fact that the Japanese fiscal year ends on March 31.
China on the other hand has been gradually changing the composure of their investments. They have, in recent months, been diversifying away from U.S. bonds in favor of a more balanced portfolio that contains a greater amount of non- U.S. holdings. Now that the Euro is lower, perhaps they will reinvest in bonds issued by the better quality European sovereign issuers, perhaps Germany. It has also been noted by us that China expects to run an $8 billion trade deficit for the month of March 2010.
MANY WORLD STOCKS ARE TEMPORARILY OVER BOUGHT, BUT BUYERS ARE CONTINUING TO TARGET THEM
Why would buyers want to look at stocks after their rise in 2009?
Reason 1) To obtain a stronger currency.
European currencies are weak, and thus Europeans are seeking stronger currencies for investment. Asian currencies, the Australian, Canadian, and even the U.S. dollar have benefited mightily from this trend. They will buy stocks denominated in currencies other than the Euro.
Reason 2) To obtain rising dividends.
With bond markets looking queasy, why not buy stocks in fast growing countries whose dividends can follow the rise of corporate profits? Alternatively, one can buy shares of companies that benefit from the rise in the value of commodities.
It is common for investors to buy and hold gold, oil, and other commodity-related shares or shares of companies who can grow through difficult economic times. European, Japanese and various other economies will be under pressure for years from higher interest rates as a result of unwise monetary and fiscal policies. Why not take this opportunity to diversify?…and while diversifying, why not look for companies that can grow their dividends as inflation inexorably re-asserts itself in the coming months and years?
Reason 3) To buy stocks of the companies which can grow, because they enjoy the tailwinds of growth in their home country.
Reason 4) To avoid the risk of holding bonds now, while interest rates are rising around the world.
Individual investors are selling bonds and buying stocks. Investors will sell bonds and buy stocks, while waiting for yields to rise and bond prices to fall to more reasonable levels. Although this is not how institutional investors think, this thinking is common among individual investors. We believe that this is a very wise approach. In our opinion, long term bonds are a terrible investment at this time.
NEWS FROM MEXICO

Problem #1) Mexico's oil production is in rapid decline and the Mexican government has not done much about it. Mexico's oil exports are down 40 percent in five years. Mexico's largest oil producing fields, Cantarell and KMZ fields represent 60 percent of the nation's output. Their production declines are taking a heavy toll on Mexico's fiscal situation.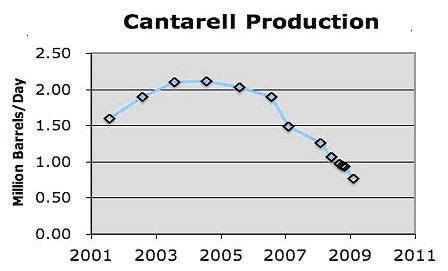 Problem #2) The commencement of major drug gang skirmishes is exposing the corruption, poverty, and social breakdown that has occurred in the country over the past few decades.
Rather than spend a long time describing the causes and reasons for the exacerbation of the problems, let us focus on the effects of the problems on Mexico's northern neighbor, the United States.
The future looks darker than the past. With oil running out and a battle for Mexico's future taking place between the drug lords and the government, we anticipate there could be up to 20 million more Mexicans entering the U.S. in the next few years.
The reality is that there are many more Mexicans illegally in the U.S. today than the U.S. government is admitting. Additionally, remittances from the U.S. are an integral part of the Mexican economy and lower remittances for the last two years have hurt Mexico's economy.
We do not know the total number of undocumented immigrants in the U.S. today, but every American realizes that the official statistic of 12 million published by the U.S. government is a gross underestimate.
Immigration is causing changes in education, health care, and other state and local social programs. Many of the immigrants are poor and highly dependent upon governmental entities for their services.
Whatever the program, politicians routinely misstate and underestimate by a factor of 4 or 5 the costs and the deficits associated. In other words, the health bill, the wars in Iraq and Afghanistan will likely cost 4 or 5 times as much as originally projected by the Congressional Budget Office. Any government estimates with respect to the costs of an immigration program are likely to be just as bad.
NEW TECHNOLOGIES WILL PROVIDE IMPETUS FOR GROWTH TO THE WORLD

We are great believers in the power of new technologies to create wealth for a nation and the world.
The Internet, new communications, energy, transportation, and other innovations will change our lives and provide economic growth for many nations. The major benefits will accrue to the countries which have good educational systems and provide capital to inventors and entrepreneurs starting new ventures to utilize these new technologies.
One need only look around the U.S. Many new technologies have been introduced to the U.S. market by American and foreign-born high tech entrepreneurs who studied in the U.S.
Many prominent U.S. technology companies have been founded by people from the U.S., China, India, Russia, South Africa, Pakistan, Israel, France, and other countries, people who attended universities in the U.S. and then migrated to Silicon Valley, California to form companies. The high tech venture capital community in Silicon Valley along with local universities such as Stanford, U.C. Berkeley, and others has provided the brainpower to build many technology companies. The benefits from these have been spectacular for the U.S. economy.
Other regions and other universities have also produced many software, biotech, communications and other technology companies. Clearly, universities and equity venture capital in combination are the incubators of a great deal of technology. This advantage that the U.S. enjoys should be nurtured. Yet many of these advantages are under attack by unwise politicians and bureaucrats who are discouraging highly talented foreigners from getting and keeping work visas in the U.S.
TALES OF CHINA'S DEMISE HAVE BEEN GREATLY EXAGGERATED! CHINA'S SLOW DOWN…HAS FAILED TO ARRIVE

The first quarter GDP growth for China is estimated at a 12 percent annual rate. Many informed economists agree that growth may slow somewhat in the second half of 2010, but annual growth will exceed 10 percent for 2010. Corporate profits in China are exceedingly strong.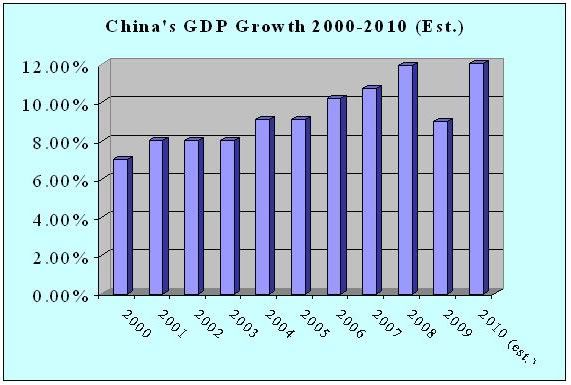 SUMMARY
Smart investors will buy stocks on dips, sell their long term bonds denominated in the Euro and the U.S. dollar, and shift into shorter maturity bonds or into stocks that can grow. Investors should consider selling all long term bonds of any type.
We favor foreign stocks in Singapore, Thailand, Indonesia, and Malaysia. We also favor export-driven companies in developed countries, and commodity producers globally, especially oil companies that are increasing their production.
In the world of currencies, we suggest that readers continue to avoid the Euro, which will fall more than the U.S. Dollar. We expect the Australian, Swiss, Thai, Canadian, and Malaysian currencies to rise. Gold is in a trading range and we believe it is smart to buy below $1090 per ounce and hold for longer term.
Thanks for listening
---
These articles are for informational purposes only and are not intended to be a solicitation, offering or recommendation of any security.  Guild Investment Management does not represent that the securities, products, or services discussed in this web site are suitable or appropriate for all investors.   Any market analysis constitutes an opinion that may not be correct.  Readers must make their own independent investment decisions.
The information in this article is not intended for distribution to, or use by, any person or entity in any jurisdiction or country where such distribution or use would be contrary to law or regulation, or which would subject Guild Investment Management to any registration requirement within such jurisdiction or country.
Any opinions expressed herein, are subject to change without notice.  In addition, there are many market, currency, economic, political, business, technological and other risks that are beyond our control.  We make reasonable efforts to provide accurate content in these articles; however, some content and some of the assumptions, formulas, algorithms and other data that impact the content may be inaccurate, outdated, or otherwise inappropriate.  In addition, we may have conflicts of interest with respect to any investments mentioned.  Our principals and our clients may hold positions in investments mentioned on the site or we may take positions contrary to investments mentioned.
Guild's current and past market commentaries are protected by copyright.  Apart from any use permitted under the Copyright Act, you must not copy, frame, modify, transmit or distribute the market commentaries, without seeking the prior consent of Guild.